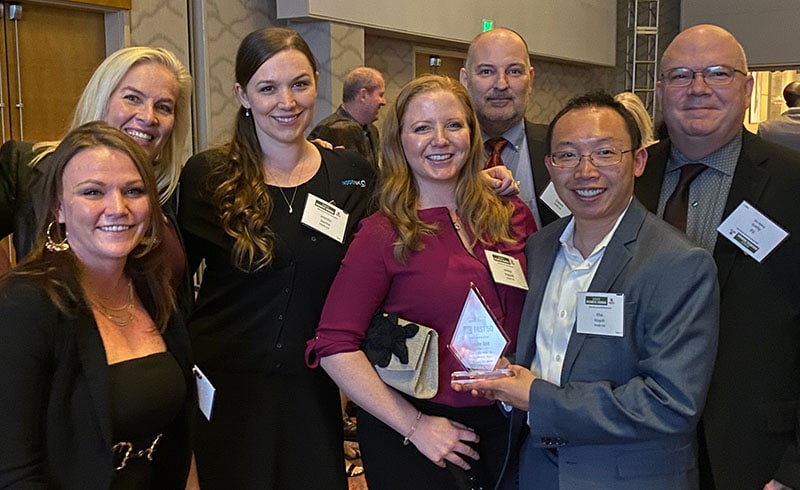 Company honored by Denver Business Journal (DBJ) as one of the fastest growing privately-owned companies in the Denver, Colorado area.
On Tuesday, October 22nd, INODE celebrated with 49 fellow companies on the DBJ's Fast 50 list. During the course of the evening, it was revealed that INODE is the eighth fastest-growing private business in the Small Business category! The article on INODE in the freshly published Fast 50 Special Report from DBJ can be read here.
As part of his acceptance, President and CEO Khai Huynh was asked to reveal his favorite space-themed movie and how its plot and themes relate to the work the INODE team does every day. His response:
"My favorite space-themed film is Mel Brook's Spaceballs. If you know Star Wars, you know the general premise of Spaceballs. A young rogue captain and a princess in hiding, an epic journey, and a discovery of a power within yourself you were not aware of.
What I like about Spaceballs is that anything is possible. For INODE as a company, it fits us pretty well. We have a small, tight-knit central team comprised of the people here tonight, who continuously are challenged to go outside of their norms and expand their skill sets, knowledge, and comfort zones to evolve INODE as both a service provider and an employer. Like Lone Starr, we started out looking for small jobs and instead stepped into a saga with our first client being an aerospace giant, the arguable king of their industry. That job changed the course of our company's heading and led us to great things. I think that the main take-away is that no matter what plot twists, unexpected detours, or obstacles that might come our way, we can get through it with innovative thinking, strong team bonds, a willingness to take risks, and good humor, and come out on the other side better and stronger than we were before. The ability to go outside the box, and to laugh in the process of growth, which is not always painless, is a huge reason we are where we are today and continue to evolve and to succeed.
I want to thank my team for believing in our mission. I cannot do it without you!"
Congratulations team INODE! Keep up the awesomeness!