SBA 8(a): A Program for Helping Inspired Entrepreneurs
The Small Business Administration's Office of Government Contracting & Business Development works with federal agencies to award at least 23 percent of all prime government contract dollars to small businesses. Many types of businesses benefit from this program including small disadvantaged businesses, women-owned small businesses (WOSB), service-disabled veteran-owned small businesses (SDVOSB), and small businesses that are located in historically underutilized business zones (HUBZone).
The Small Business Administration's (SBA) 8(a) Program is an essential instrument for helping socially and economically disadvantaged entrepreneurs gain access to the economic mainstream of American society. The program helps thousands of aspiring entrepreneurs gain a foothold in government contracting.
The Government's Contracting Goals
As the largest single purchaser of goods and services in the world, the government has very specific requirements about how it makes purchases. The goal of the rules and regulations that cover federal contracts are to ensure that:
Competition is fair and accessible. Any business that is qualified to bid for a project should be able to do so in a process that is fully transparent.
Products and services are priced competitively. The government expects pricing that reflects its purchasing power and range of options for acquiring what it needs.
The government gets what it has purchased. Contractors must confirm that they have met the government's requirements, terms, and conditions in order to receive payment.
All parties must comply with the law. Each type of purchase is covered by different regulations. The Federal Acquisition Regulation (FAR) or Defense Acquisition Regulation Supplement (DFARS) apply to most federal agencies, and government entities may also have their own rules.
Types of Government Contractors
There are two general categories of government contractors:
Prime contractors bid on contracts directly from government agencies. If they win the contract, the prime contractor is the entity that is legally responsible for all aspects of fulfilling the contract, which includes interacting with the government entity, hiring staff, organizing and managing teams of subcontractors, and meeting all contract requirements.
Subcontractors are part of a prime contractor's team. They typically provide a specific capability or product. Subcontractors are responsible only for their defined area of expertise. The prime determines each subcontractor's percentage of work (called "workshare") and which assignments (called "tasks") they receive.
To be either a prime contractor or a subcontractor on a government contract, a company must qualify as a small business and register as government contractor.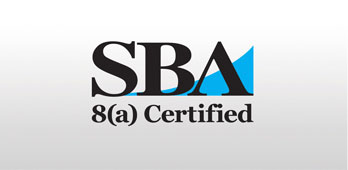 The 8(a) sole source vehicle provides agencies with a simplified and shortened acquisition procedure.
Learn More about the 8(a) Sole Source Vehicle.
8(a) Requirements Overview
To participate in the 8(a) Business Development program and become certified, the following requirements must be met:
The business must be majority-owned (51 percent or more) by an individual(s).
The individual(s) must be an American citizen, by birth or naturalization.
The business must be majority-owned (51 percent or more) and controlled/managed by socially and economically disadvantaged individual(s).
The individual(s) controlling and managing the firm on a full-time basis must meet the SBA requirement for disadvantage, by proving both social disadvantage and economic disadvantage.
The business must be a small business.
The business must demonstrate potential for success.
The principals must show good character.
Separate eligibility requirements exist for a business that is owned by American Indians, Native Alaskans, Native Hawaiians or Certified Development Companies.
Program Participation
Participation in the 8(a) program is divided into two phases over nine years: a four-year developmental stage and a five-year transition stage. Participants can receive sole-source contracts up to a ceiling of $4 million for goods and services and $6.5 million for manufacturing. 8(a) firms are also able to form joint ventures and teams to bid on contracts.
As what is known as a Minority-Owned, Small Disadvantaged Business, INODE was welcomed into the 8(a) Program in November 2009. Since then we have utilized the opportunities the program presents and received several sole-source 8(a) contracts.
To learn more about the program and how to utilize 8(a) sole source contracting, visit our how-to page for 8(a) direct award.