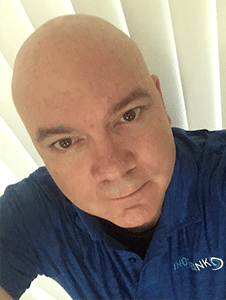 Many of us have experience with having an open invitation back to a company we have formerly worked with, but how many of us have had such a stellar experience that we would actually consider returning? Last month INODE was pleased to welcome Aughtly "Ed" Ayers back to our team. Ed was an INODE original, back when we had less than five employees!
Ed and our CEO, Khai Huynh, met on a project called CITS CVI about a decade ago, where he designed and implemented one of the Air Force's first consolidated virtualized environments. As a valued member of the CVI project, Ed traveled around the globe including stints in Kuwait, Germany, and Guam, contributing to the success of the project. CVI later became SCE; a program that is supported by our CONES team today.
A former Navy serviceman, Ed originally came to the INODE team as a Systems Engineer with knowledge spanning from programming to server, networking, data storage, and cloud technologies. He worked directly with some of our most valued long-term customers such as the US Air Force and National Institute of Health and supported various vendors such as VMware and NetApp. He performed everything from simple installations to more complex architectural designs and, as he says, everything in between.
In the close to five years that he has been away from the team, he has been serving primarily as a NetApp Resident at various customers sites in Denver and Las Vegas. Naturally, with his skills and experience with hauling customers out of tough spots, Ed was entrusted with the more difficult cases and brought success not only for his customers but for the company as well.
So why exactly did Ed return to INODE?
"I had the opportunity to speak with Khai over the early part of the summer on returning, which was the actual start of me coming back. Changes in technology and methodologies forced a change with my last position that made me re-evaluate my skillset and the overall value I was bringing to the customer. I thought it was time for a change. I have great respect for both Khai and Jessica and enjoyed my original time at INODE; I have found them to always treat people fairly and do the right thing by their employees. So, I researched and saw nothing but positives when I saw the new website, digital presence, and directions the company has taken overall."
In his new role as the Technical Lead on our PCS team, Ed is looking forward to learning new technologies and methodologies, facing new challenges, and adding value to INODE and our customers as quickly as he can. "I am looking forward to helping customers move forward and solve problems that others have not been able to accomplish. I am also excited about working with Khai again; he is a very smart person and I look forward to having the technical in-depth discussions, planning, and brain-storming sessions that we had in the past as we drive PCS business and engage in high-level design relating to INODE's service offerings."
We at INODE can truly not say how excited we are to have Ed back on our team!